Amelia Island has long been a favorite beach destination for travelers and is growing in popularity. Over the last several years, hundreds of millions of dollars have been invested in the local hospitality industry, including the opening of new hotels and restaurants, and massive renovations and expansions. The island has also introduced several new attractions and amenities for visitors, including skydiving, the Biggest Loser Resort at the Villas of Amelia Island Plantation, trike flying tours, stand-up paddleboard (SUP) yoga, "Craigcat" boating adventures, and much more.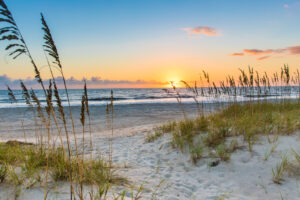 Romantic Get-Away or Family Adventure
Fantasy Island
For many couples in search of a romantic island getaway, Amelia Island is a dream come true. With long, beautiful beaches and lush landscapes, the island's unique and breathtaking natural beauty provides an ideal setting for any escape. Guests can choose from a collection of six charming bed and breakfast inns, three elegant resorts, and a number of stylish hotels and condos for a heavenly hideaway. Visitors can explore paradise with some couples-only adventures—a sunset sail, a horse-drawn carriage ride, or even a peaceful horseback ride along the shoreline. Sporting couples can raise a racquet or play a round on one of the championship tennis courts or golf courses. From a corner bistro in Fernandina Beach to an award-winning, oceanfront favorite, couples can feed the flames with a romantic meal and quiet table for two at many of the island's fabulous restaurants. A relaxing couples' massage at one of the island's luxurious spas, followed by a simple moonlit stroll along the quartz-sand beach is the perfect end to any day.
Amelia's Family Room
Amelia Island presents a very appealing alternative to the rush and pandemonium of many travel experiences, giving families a real fighting chance to reconnect. The island offers river cruises, nature centers, fly fishing, kayaking, hiking, horseback riding on the beach, exploring the wildlife on a Segway, and, of course, 13 miles of gorgeous beaches! Many of Amelia Island's hotels and resorts offer programs and accommodations catering to families and children. "Our Space" at The Ritz-Carlton Amelia Island, features beach games, water sports, night sports, fitness challenges, video game challenges, beach kayaking, bike hikes, and pizza and movie nights. Surf lessons and surf clinics are among the beach resort teen program's most popular highlights. Omni Amelia Island Plantation offers families a number of unique activities, including Camp Amelia and Camp Amelia @ Night, featuring arts and crafts, nature activities, and more.
Upcoming Events on Amelia Island
Amelia Island fills each year's calendar with an amazingly diverse and lively set of local events. May 20-23, the prestigious Amelia Concours Week brings thousands of car buffs to participate in seven dynamic automotive events. 
Omni Amelia Island Resort will host its 7th Annual Fish to Fork in 2021 (May) With sweeping views of the Atlantic Ocean and beautiful tree canopies as a backdrop, the weekend will offer an unmatched foodie experience, with true dock-to-dish specialties in a fun and interactive atmosphere. The resort will welcome renowned chefs from around the country to showcase their fishing and culinary skills, leading up to a final chef showdown on Saturday night with a live vote from event guests!
Throughout the spring, the Amelia Island Chamber Music Festival fills the island with world-class musical artists and performances. Unique events happen all year long on Amelia Island and just keep getting better. For a complete list of the events and festivals that bring visitors back year after year, visit www.ameliaisland.com/events.