Panama City Beach invites residents and visitors, who are looking to get outside safely, to explore the destination's picture-perfect, Caribbean-like outdoor experiences. With over 27 miles of white-sand beaches, people of all ages will find plenty of adventure on and off the water, from exploring a remote island and spotting wildlife in a nature sanctuary to finding inner peace with beach yoga and scuba diving to a ship wreck.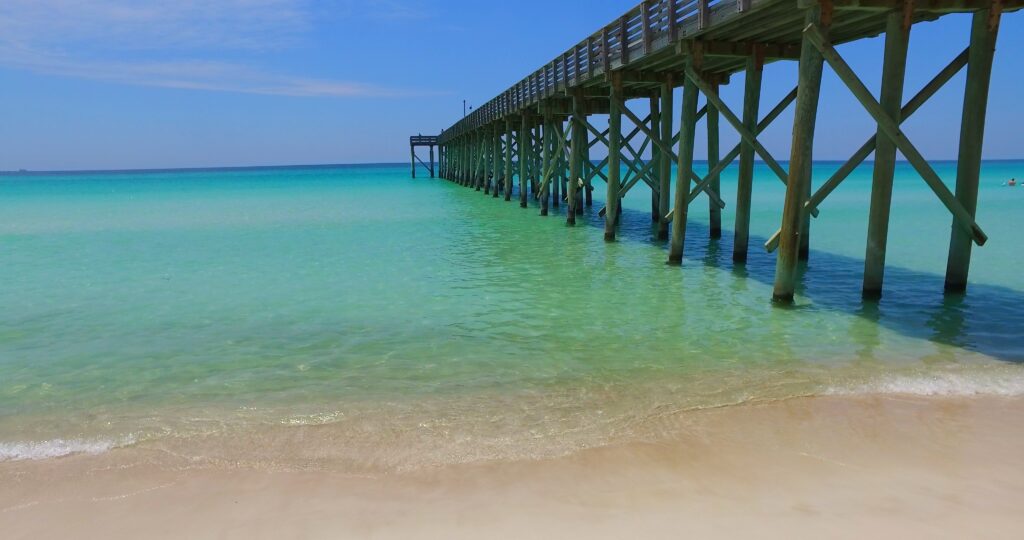 "Panama City Beach is a destination full of diverse experiences that cater to every type of traveler and with nearly 320 days of sunshine annually the Real. Fun. Beach. is the perfect place for outdoor enthusiasts," shares Visit Panama City Beach President and CEO Dan Rowe. "Whether it is simply taking a walk on 'the world's most beautiful beaches' or reeling in a prize catch on a private fishing charter, we guarantee a wide variety of pursuits fit for all ages."
Please see below for Panama City Beach's top 10 outdoor destinations and activities for the ultimate escape:
Explore Florida's Hidden Gem – Shell Island
Accessible only by boat and surrounded by the world's highest concentration of bottlenose dolphins, this pristine
seven-mile island of white sand, emerald water and beautiful pine forest is truly an oasis for those who want to get away from it all. Suited for a picnic, walk on the beach or snorkeling adventure, the barrier island is accessible to visitors by private charter, boat rental or an hourly shuttle service. The perfect spot to reconnect with Mother Nature, Shell Island has natural beauty as far as the eye can see. From docile deer and nesting shorebirds to loggerhead turtles and elusive ghost crabs, a host of coastal creatures call Shell Island home.
Reconnect with Nature at St. Andrews State Park, Camp Helen State Park and Panama City Beach Conservation Park
Ecotourism is more popular than ever, and Panama City Beach visitors can experience firsthand "the last undiscovered
Florida coast." From hiking, biking and birdwatching to swimming and fishing, the destination's St. Andrews State Park, Camp Helen State Park and the Panama City Beach Conservation Park are the ideal habitats for viewing the diverse animal and plant life that make up this nature lover's wonderland. Named the #2 beach in the nation by TripAdvisor, St. Andrews State Park provides an outdoor retreat for every type of visitor, with activities including kayak and canoe rentals. Located on the western border of Panama City Beach between the Gulf of Mexico and Lake Powell, Camp Helen State Park is truly a local treasure. Visitors can explore coastal dunes and salt marshes along the Gulf or freshwater wetlands and scrub oak forests along the lake. The Panama City Beach Conservation Park is located on nearly 3,000 acres of protected land and boasts 12 looping trails ranging from 0.6 to 11 miles. Nature lovers can often spot native wildlife soaring and roaming freely, including eagles, alligators, woodpeckers, wild boar, whitetail deer, snakes and coyotes.
Deep Dive the "Wreck Diving Capital of the South"
Known for some of the best shipwreck diving on the Gulf Coast, Panama City Beach is a premier diving destination for both beginner and advanced divers. Guests can become scuba certified with Dive Locker and discover hidden, underwater treasures, including the destination's newest artificial reef, the former El Dorado Cruise Liner. No matter what the diver's level of experience is, the ideal underwater adventure awaits with opportunities to get up close and personal with octopus, grouper and other colorful wildlife that frequent these waters.
Snorkeling Adventures  
For adventure enthusiasts who do not have their diving certification, snorkeling off the coast of St. Andrews State Park or the secluded Shell Island is the perfect way to explore Panama City Beach's emerald-green waters.  The Gulf 's excellent water clarity, which is even better during the fall months, allows for plentiful encounters with starfish, crabs and other crustaceans as well as dozens of varieties of fish.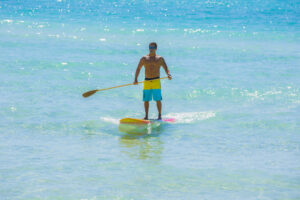 Paddleboard the Gulf and Backwaters
Beach lovers can surf the waves via paddleboard on Panama City Beach's protected and open waters like the Grand Lagoon, St. Andrews Bay and various cold springs, rivers and lakes in the region. While paddleboarding, guests can spy rays, fish, sea turtles, dolphin and other wildlife beneath the water's surface. Equipment is easily rented from The Boardroom and for the especially brave and well balanced, paddleboard yoga is also available at Yoga Elements.
Beach Yoga
Yoga aficionados who would prefer to stick to land can find several offerings year-round, including beach yoga. Visitors can achieve zen and stay fit, all while enjoying Panama City Beach's natural beauty. Studio By The Sea, Namaste A Mermaid's Oasis and The Karma Shack at Zen Garden all provide a number of options for all skill levels.
Fishing
The crystal-clear depths of Panama City Beach's sandy shores are home to a vast array of wildlife for adrenaline
pumping offshore and inshore fishing. Novice and experienced anglers can reserve a fishing charter for a deep-sea catch-and-release experience in the Gulf of Mexico to see why Panama City Beach is known for its world-class fishing. Guides can help reel in those king mackerel, blues, redfish, flounder, pompano hardtail and cobia—all common in the area. Fishing adventures abound in Panama City Beach so much so that the award-winning "Chasin' The Sun" TV show takes place in the region.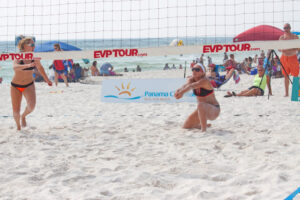 Beach Volleyball
Various beach access points and restaurants in Panama City Beach have volleyball nets that are open to the public. Guests and locals alike often grab a delicious lunch at Schooners or Sharky's and then hit the sand for some volleyball. The City Pier, where multiple nets can be found, is also a great place to pick up a game.
Hiking & Biking Trails
Panama City Beach's land is almost perfectly flat, allowing anyone to enjoy the destination's hiking and biking trails.
With more than 24 miles of trails and boardwalks, the Panama City Beach Conservation Park was developed to protect the area's natural resources and to encourage Panama City Beach residents and visitors to enjoy the incredible scenery found in this unique part of the country. St. Andrews State Park offers nature trails that intersect a rich diversity of coastal plants and wildlife. There are two trails in the park to choose from – the Heron Pond trail which winds through a pine forest and past a historic turpentine still and the Gator Lake trail which provides a scenic lakeside view. Adjoining the Gulf of Mexico and Lake Powell, Camp Helen State Park is one of the largest coastal dune lakes in the world, providing visitors with a unique look at the coast's diverse environment. Offering nature trails for biking and hiking, this park gives guests a snapshot of plants and wildlife in a variety of ecosystems.
Golfing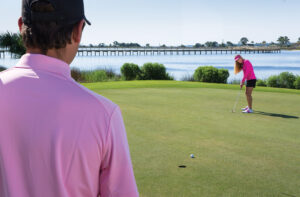 Recognized by Golf Digest Magazine as one of America's top three golf towns, Panama City Beach has affordable greens fees paired with award-winning course design. Tee times are available year-round, with an average annual temperature of 74 degrees, and golfers can choose from the Nicklaus Course, the only Nicklaus Design course in Northwest Florida, as well as Holiday Golf Club and Signal Hill.
Upcoming Festivals/Events
UNwineD – March 18-19, 2022
UNwineD is an award-winning culinary event held in Aaron Bessant Park, featuring craft beer, spirits and wine from around the world, culinary creations by the region's leading chefs and a Southern garden party presented by Southern Living. Guests can raise a glass at the Friday Night Kickoff Party, a time to mix and mingle with some of the South's most elite chefs, mixologists and tastemakers. The celebration continues Saturday with the Grand Afternoon Tasting & Cocktail Competition followed by a live concert.
Pepsi Gulf Coast Jam– June 2-5, 2022
The Pepsi Gulf Coast Jam the best of today's country music to the beach. Festival-goers get a chance to see the biggest names in country music as they take to the stage on the beach, with previous artists including Jason Aldean, Luke Bryan, Tim McGraw, Brad Paisley, Kid Rock and Eric Church, just to name a few. As the sun begins to set, patrons can ride free shuttles to the headline stage at Frank Brown Park.
Real.Fun.Fourth – July 4, 2022
Home to the largest display of fireworks on the Gulf Coast, Panama City Beach offers an All-American weekend of Independence Day celebrations during Real.Fun.Fourth. Friends and family put on their red, white and blue gear and gather on the sand to enjoy an electrifying firework show.
Beach Home for the Holidays
A great holiday tradition for the family, locals and visitors can spend Thanksgiving weekend kicking off the most wonderful time of the year at Beach Home for the Holidays, with free holiday concerts at Aaron Bessant Park Amphitheater, free seasonal-themed events like campfires and s'mores, meeting with Santa, a Christmas tree-lighting and more.
New Year's Eve Beach Ball Drop
Tens of thousands of visitors head to Panama City Beach for the New Year's Eve Beach Ball Drop, which features not one but two countdowns, fireworks and 10,000 inflatable beach balls raining down from the sky over the streets of Pier Park. The 8 p.m. Beach Ball Drop gives kids the chance to experience the fun before they head to bed and let their parents continue the celebration. More entertainment and live music will follow during the build up to midnight, when a dazzling fireworks display will accompany the lowering of a giant LED-lit beach ball to signify the beginning of the new year.
About Panama City Beach
Panama City Beach is situated on 27 miles of sugar-white sand beaches bordering clear, emerald-green waters where the Gulf of Mexico and St. Andrew Bay converge. With 320 days of sunshine annually and attractions such as St. Andrews State Park and Pier Park, the region has long been favored by travelers seeking an affordable beach vacation with year-round offerings for families, couples, groups and adventure-seekers. These include championship golf courses, spas, sporting events, award-winning dining and diverse recreational activities. In addition, Panama City Beach's Northwest Florida Beaches International Airport offers non-stop flights on Delta Airlines, Southwest Airlines and United Airlines. For more information, call 850-233-5070 or visit the official website of the Panama City Beach Convention and Visitors Bureau at www.visitpanamacitybeach.com. Stay connected with Panama City Beach on Twitter (@Visit_PCB), Instagram (@Visit_PCB) and Facebook (@VisitPanamaCityBeach).