Nestled at the foothills of the Smoky Mountains is Pigeon Forge, surrounded by incredible mountain views as far as the eye can see. Despite its size, this Southern city is jam-packed with activities for people of all ages and interests. You can drive down the five-mile parkway and enjoy the thrill of award-winning coasters at Dollywood, soak up the sun or cool off at Dollywood Splash Country or head to Wonderworks for hands on science with a fun twist. From mini-golf, go-karts and museums to Alpine Mountain coasters, indoor skydiving and snow tubing, Pigeon Forge is bursting at the seams with fun for all ages. It was hard to narrow down, but we picked some of our top 10 attractions for families in Pigeon Forge below.
#1. Dollywood
Dollywood, right in the heart of the Smoky Mountains is considered one of the world's premier theme parks, and I agree. Featuring 160 acres of rip-roaring rides, delectable fare, and spectacular Dollywood shows and entertainment including live artists performing country, southern gospel, classic rock 'n' roll and Appalachian music, to master craftsmen showcasing glass blowing and blacksmithing. Dollywood is brimming with the rich heritage and artistry of the Smokies. All surrounded by breathtaking views of the Great Smoky Mountains.
On the fun side, Dollywood has the nation's first roller coaster that goes backwards, the FireChaser Express. And the fastest wooden roller coaster in the world, Lightning Rod. Which is also the world's first launching wooden coaster, launching zero to 45 MPH and top speed of 73 MPH, which makes for unique experiences and extra thrills for riders. And America's first wing coaster, Wild Eagle, is perched 21 stories above Dollywood and gives you the sense of flying!
Yes, there are many big roller coasters (which makes the park perfect for families with older kids) but there is plenty for little ones to do, especially in Country Fair and throughout the whole park.
Tripadvisor just named Dollywood as the number one theme park in the United States during the 2022 Travelers' Choice Best of the Best Awards! Congratulations Dollywood!
Upcoming events to watch out for: Dollywood Smoky Mountain Summer Celebration (June 17 – Aug. 6, 2023), Dollywood's Harvest Festival featuring Great Pumpkin LumiNights (Sept -Oct), and Dollywood's Smoky Mountain Christmas (Nov -Jan).
Rock the Smokies takes place in August and features headline performances by the top Christian artist.

Tip. There is a Church Service on Sundays
Have you ever heard of a theme park that holds church services? Every Sunday, the chapel in Dollywood has a 30-minute inter-denominational church service that takes place every Sunday at 11:30 a.m. The Robert F. Thomas Chapel is named to honor the doctor who delivered Dolly as a baby! It is a one-room country church where the wooden pews and hardwood floors echo with the sounds of families and neighbors who gather for Sunday morning worship.
#2. Dollywood Splash Country
Next door on another 25 acres is Dollywood's fantastic water park, Splash Country. Splash Country is your summer destination to beat the heat and enjoy some cool, wet fun in the Smoky Mountains. Even in the foothills of the Great Smoky Mountains, the heat and humidity during the height of summer can have you searching for ways to cool off during your vacation.
You will not be disappointed when it comes to offering thrills and relaxation. For the daring members of your party, there are exciting water slides such as Fire Tower Falls and Mountain Scream, which can give you a rush of adrenaline. You can also get a taste of the white-water rafting experience on Raging River Rapids, and the cutting-edge water coaster (our favorite), River Rush; without even having to book a guided excursion.
If you prefer your water park trips to be a little calmer, Splash Country has plenty of places for you to chill out and savor the experience. You can take a dip in the Cascades, a massive lagoon-style pool with interactive water features, or float luxuriously in the Downbound Float Trip lazy river while enjoying some mountain scenery. There are even private retreats and canopies available to rent if you want a private space to relax.
Tip: Dollywood and Dollywood Splash Country offers free water for all guests. All you have to do is ask for it at any drink counter.
#3 Beyond the Lens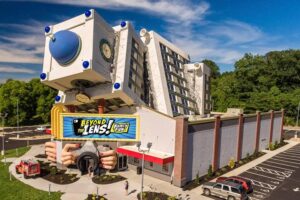 Beyond the Lens is a highly interactive and immersive experience featuring more than 150 interactive exhibits that offers fun for the whole family. From endless photo ops, pop culture walkthrough, techno-sports games, old-school nostalgia with cutting edge technology and amazing virtual reality experiences including walking the famous plank 60 stories high, takes learning to new levels. Also has lots of history woven throughout the attraction. It's a great opportunity for the entire family to learn something new and explore the wonders of the world.
Coming soon, Beyond the Lens will also be home to the new FlyRide, a state-of-the-art, fully immersive adventure. Soar above 22 national landmarks on full motion seats that dip, turn and soar. You will feel wind, mist and other amazing effects!
Tip: Plan to spend at least 2 hours. Have fun with it!
#4. Pirates Voyage Dinner & Show
Pirates Voyage invites you to join the most famous pirate, Blackbeard, and his quarter master Calico Jack as they lead the Crimson and Sapphire crews in a battle on land, on deck, in water and high above full-sized pirate ships in a 15-foot-deep indoor hideaway lagoon!
As the action begins with a mouth-watering four-course pirate feast then set off to the high seas for a journey you won't soon forget! You will witness tons of action, stunts, sword fights, low and high-flying acrobatics, mermaids, and more as pirate crews duke it out in an epic battle for lost treasure.
The show lasts about an hour and a half and is great for all ages.
#5. WonderWorks
WonderWorks Pigeon Forge provides family with hundreds of hands-on, interactive exhibits that will give you and your family an entertaining, educational, and exciting experience. With over 42,000 square feet of "edu-tainment," WonderWorks is a science-focused indoor amusement park, combines education and entertainment for the mind. WonderWorks turns your world upside down with its topsy-turvy building. Step into a world where everything's inverted, and, once you've gone through the inversion tunnel, you can enjoy the crazy world of Wonderworks.
After you've explored the exhibits, venture up to the basement where you'll find action-packed entertainment for all ages. Climb through obstacles three stories above the ground in the glow-in-the-dark Indoor Ropes Course, compete against opponents and battle in our in a fast-paced, black-lit Laser Tag arena and experience a whirlwind adventure in our 4D XD Motion Theater.
There is something unique and challenging for all ages.
#6 Magiquest
The MagiQuest castle in Pigeon Forge is home to 4 great attractions – MagiQuest game, Special FX Pirate Golf, Odyssey Mirror Maze, and Adventure Arcade.
MagiQuest is an interactive game that gives you the opportunity to become the main character in a virtual world. The game takes place in a huge 30,000 square foot castle that is located on the main strip in Pigeon Forge. The game involves a series of quests where your story, your adventure, your imagination is brought to life! As with every game, there are multiple levels to quest your way through. Unlike anything you've ever encountered, MagiQuest lets you live the game, not simply play it.
It's an immersive and engaging experience for all the family. You can play through solo or as a team and play the game at your own speed.
Black Light Pirate Miniature Golf
The miniature golf course has 18 holes and is set in a Caribbean pirate village, and includes a ship, villagers and hidden treasure. The black lights make the pirate village, pirate ship, villagers, and hidden treasure pop with all the colors of the rainbow. This unusual twist on a classic game is fun and different. Kids of all ages immediately love the black-light course.
Tip: We highly recommend visiting MagiQuest immediately after they open or after 6 p.m., after the dinner shows have started.
#7. The Island in Pigeon Forge
The Island in Pigeon Forge is a 23-acre entertainment destination offering families affordable fun, both night and day. The Island is filled with over 80 shops, rides and games, restaurants, dancing fountains, live music, attractions including a 200-foot-tall observation wheel and SkyFly where you will Soar America in a fully immersive flying theater where guests will experience a feeling of flight as they soar over some of the most iconic locations in the United States!
Whether it is breakfast, lunch or dinner, you can find the perfect you can find the perfect restaurant in the island! Timberwood Grill, Paula Deen's Family Kitchen, Mellow Mushroom and The Fudgery to name a few!
Eat, shop, play, and stay at The Island in Pigeon Forge— a family fun and entertainment destination in the Smoky Mountains.
#8. Hollywood Wax Museum
Did you know that Hollywood Wax Museum in Pigeon Forge is the biggest and most photographed attraction in Pigeon Forge, Tennessee? With four family-fun attractions including Hannah's Maze of Mirrors, Hollywood Wax Museum, Castle of Chaos, and Outbreak Dread the Undead, the Hollywood Wax Museum offers guest a unique experience you will not get anywhere else.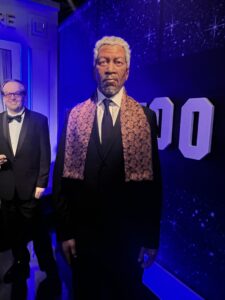 When was the last time you walked the red carpet with an a-list star or stepped into the spotlight with Hollywood royalty? Hollywood Wax Museum has over 100 hundred wax statues that play a tribute to the American film industry and the artists who have greatly influenced our nation's pop culture.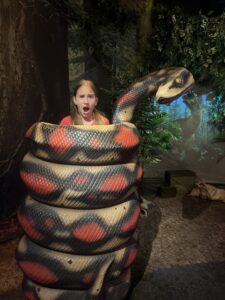 You will get the chance to take the stage with Johnny Cash, dance with Michael Jackson, or walk the red carpet with Robert Downey Jr. The photo ops are endless! And props are provided to make posing for selfies even more fun. You'll also get to know more about your favorite stars; while learning about their pets, pet peeves and accomplishments. The wax museum is so popular and beloved that it has become a cultural landmark in the Smoky Mountains.
Step inside Hannah's Maze of Mirrors and find your way through the hidden corridors to save the Princess if you dare! The story involves saving the Princes of Savannah, lost in the maze of mirrors featuring 288 potential turns in the mirrored corridors.
The music is enchanting to get you into game mode as you wander through hidden rooms and hit dead ends. Not only was it challenging for the kids, but it was also a challenge for the adults as well.
Take a ride on the Castle of Chaos, an action-packed 5D movie adventure. There are two 5D motion theatres, both have different storylines with amazing visuals and sound effects and your seat feels like you're flying, racing, and crashing. The ride will take you through a whole new reality with an adventures destination where you get to shoot multiple targets along the way.
The Castle of Chaos was one of our favorite attractions inside the Hollywood Wax Museum. Unlike many moving movie theaters, the Castle of Chaos ride isn't jerky.
Once you finish all the other attractions at the Hollywood Wax Museum, the Outbreak Dread the Undead attraction isn't for just anyone. This attraction takes place in the Chemacorp Laboratory. As you walk through laboratory, the zombies come to life. To exit, you will have to reach through a hallway of smelly spectacles and real-life scares that will leave your toes curling.
This attraction is suited best for older teens and adults.
Tip: While the Hollywood Wax Museum is a self-guided tour, you will most likely spend 2 hours inside the attractions.
#9. Dolly Parton's Stampede Dinner

Dolly Parton's Stampede is filled with friendly North and South competition, thrilling horse riding stunts, spectacular special effects, phenomenal musical productions plus a mouth-watering four-course feast complete with a delicious dessert!
The excitement begins before you even set foot in the door! The pre-show begins 45 minutes prior with entertainment, which is in the Dixie Belle Saloon, featuring a talented and funny Bluegrass and Country band, Mountain Ruckus. And stroll down the Horse Walk and get an up-close look at the stars of the show, the beautiful lines of the Quarter Horse and Palomino breeds.
The dinner attraction features 32 highly trained horses, dozens of cast members, pyrotechnics, special effects, brief lumberjack competition, pig races, ostrich races, and much more! Since the entire show is centered around a friendly competition between the North and the South, you will be competing with your friends on the other side of the arena.
#10. The Track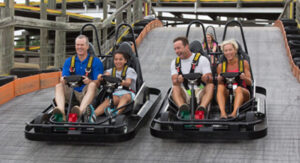 The Track Family Fun Park in Pigeon Forge features fun for the whole family with multiple go-kart tracks, blaster boats, Kids Country rides, an arcade, and more. The Track's signature attraction is the elevated Wild Woody go-kart track, where drivers race up three and a half stories and then circle back down with an exciting drop at the bottom.
The Track features single and double karts on both the Wild Woody and Family Track, allowing everyone to get involved in the action! Younger drivers can take the wheel on the Rookie Track and Kiddie Karts as well.
Be sure to take a spin on the Blaster Boats for serious fun on the water. Enjoy bumping into each other and blasting your friends and families with the water cannons attached to each boat. Children love riding rides in Kids Country – a special place designed just for them. Enjoy rides such as the Carousel, Ferris Wheel, Planes, Spin Tops, Train, Swings and more.