"Welcome to St. Simons Island, Georgia," the sign reads as you cross the threshold onto the largest of the state's Golden Isles, leaving behind the busyness of life on the mainland. But the sign is almost unnecessary.  The true welcome comes from the massive centuries-old Southern Live Oak trees, dripping with Spanish moss, that usher you in and make their presence all throughout the island.  Coupled with the charming cottage-style architecture that is required by ordinance to remain beneath the tree line to preserve the unspoiled beauty of the island, the mesmerizing, light-dappled tree canopies give you an almost instant sense of peace.  Moreover, they invite you to make your stay more than just another beach vacation but also a journey through history.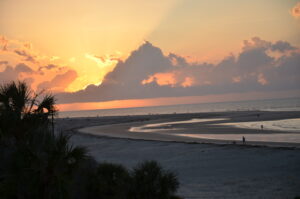 Treasured Landmarks
With many key historical events and landmarks, St. Simons and its people embrace their vivid past and offer a variety of ways to share it with you.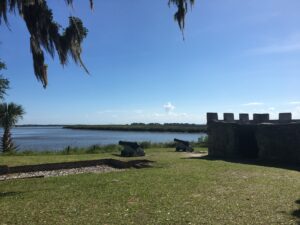 Whether you're a history buff or not, you'll find it fascinating to step foot in places of significance from even before the United States became a nation.  You can explore the archaeological remnants of Fort Frederica, built in 1736 by James Oglethorpe, founder of the Georgia colony, and also see the battle site where he and his British troops crafted a surprise attack in 1742 to defeat the Spanish invaders from the then-called La Florida, forever ending Spanish attempts to conquer the colony.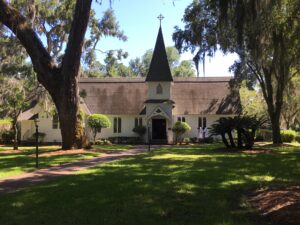 During that same time period, John Wesley—who later founded Methodism—and his brother Charles, came to spread the gospel to the natives, preaching under an oak tree on the plot of land where later Christ Church, which has its own storied past, was founded in 1806.  You can visit this stunning and revered landmark, enjoying the tranquility of its grounds, entering and learning about the historic church building, and exploring the cemetery where you'll find the graves of many of the island's early settlers.  Nearby is the beautiful First African Baptist Church, built in 1859, where slaves from plantations throughout the island would congregate to worship.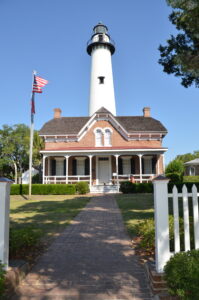 Another treasured landmark is the St. Simons lighthouse.  Constructed in 1872, after the original one from 1810 was destroyed during the Civil War, it is one of the oldest continuously active lighthouses in the US, although unmanned since the 1950s. The keeper's dwelling was converted into a museum where you can explore some interesting artifacts and period rooms before climbing the steps to the top of the lighthouse for spectacular views of the ocean and nearby Jekyll Island.  It is the perfect vantage point to see the island's famous pier and seaside village below, full of fun shops and delightful restaurants.  You also get a clear view of Neptune Park (named after a heroic, loyal slave), which is a family attraction with a playground, water activities, mini-golf, and more.
What more fitting and convenient way to visit and hear captivating stories about these and other historic places than by taking a tour on a vintage-style trolley? You can choose from several highly-rated companies that conduct these tours, one of which is operated by Cap Fendig, whose family lineage on the island can be traced back nearly two centuries.  Or if you'd prefer to explore on your own, you could rent a bicycle and meander along the many bike paths throughout the island.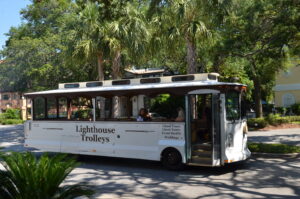 A Historic Retreat
Of course, you can't get a thorough taste of St. Simons' history without spending some time at the legendary King and Prince Beach and Golf Resort.  Built in 1935 as a private club, the prestigious Mediterranean-style retreat with amazing oceanfront views opened to the public in 1941. The next year, it was commandeered by the US Navy as a radar station and home for naval personnel during World War II after German U-boats were sighted off the Georgia coast.  Since reopening as a resort in 1947, it has continued to expand and renovate to maintain its tradition of grandeur, adding a variety of gracious accommodations over the years. It offers a selection ranging from standard rooms to separate rental houses with up to five bedrooms, even some dog-friendly options, to accommodate couples, families, and groups with varying needs and budgets.  As a guest, you'll relish its serene seaside pools and stunning sunrise views.
A Taste of Tradition with a Twist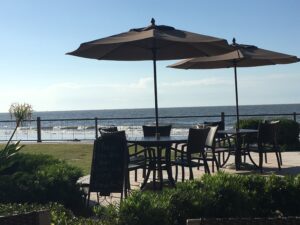 Even the King and Prince's oceanfront restaurant, opened in 2014, carries on its historical traditions, with its name, ECHO, giving a nod to its naval history and with its menus filled with classic coastal fare with a contemporary twist, such as its outstanding shrimp and grits.  In fact, many of the island's 65+ dining establishments, with very few being chain restaurants, embrace their roots in traditional Southern cuisine, while adding a modern flair—making St. Simons a foodie's paradise. 
Don't miss an exquisite dinner at Georgia Sea Grill, where the majority of their ingredients are locally sourced and every dish is "to die for."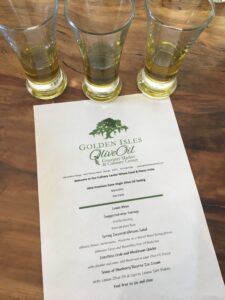 For a healthy and unique lunch, as well as educational experience, check out Golden Isles Olive Oil, surrounded by boutique shops in Redfern Village. 
Mullet Bay, one of the many great dining options in the Pier Village, offers a huge porch and a varied menu that, despite its name, goes far beyond seafood. 
And right on the island's traffic circle, you can't miss the acclaimed antique-gas-station-turned-restaurant, Southern Soul Barbeque.
A Natural Legacy
Perhaps the most important historical legacy of the island—and the whole Georgia coast—is its unique and essential ecosystem.  The state passed an act in 1970 to protect the area's iconic marshlands, recognizing them as a "vital natural resource system" for the survival of marine life and wildlife.  Today, you can explore and appreciate the environment in numerous ways, including dolphin cruises, fishing charters, kayak tours, and other eco-adventures.  Or perhaps you'd prefer to revel in the area's nature out on the beach, riding a bicycle or walking your dog, as you enjoy the sand, surf, shells, and sea birds.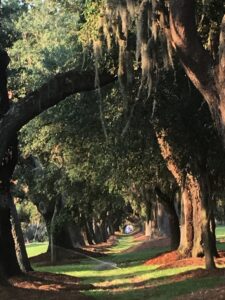 However you decide to enjoy St. Simons Island, come so that you too can become a part of its rich history.