Boy, do I have a good one for you!  So good that my family has had this twice this week and are excited that I have to make this recipe again to get pictures.  Some of my family members have been eating a low-carb diet (and have had wonderful results in the weight loss department).  With restricted diets always comes a little bit of boredom if you don't get creative and try new things.
Here are a couple of notes for those who don't have any dietary restrictions. You can choose to purchase pre-made sun-dried tomato spread instead of making the puree, just know that most processed foods have a lot of added salt and sugar.  Read the labels and adjust your seasoning accordingly.  You can use panko bread crumbs instead of the pork rinds if you want to, but I don't suggest it.  The pork rinds add such a crunch and some really amazing flavor.  OK, here is the way to making a delicious meal that your whole family will LOVE!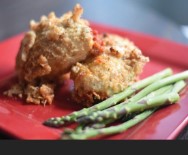 Ingredients:
8 boneless chicken cutlets
8 oz. goat cheese (I used herb & garlic flavor)
2/3 c. fresh basil, chopped
1 Tbsp. garlic, chopped
1/4  c. julienned sun-dried tomatoes in the bag
Salt and pepper, to taste
2 c. fried pork rinds, crushed to "bread crumbs"
1 c. fresh parmesan cheese, shredded
9 oz. jar of sun-dried tomatoes in oil
2 large eggs
2 tsp. of water
2/3 c. melted butter
1 tsp. garlic powder
1 1/2 tsp. Italian seasoning
Heat oven to 375°F.
Use a mallet to flatten chicken to 1/4" if necessary and make it more malleable for rolling.
In a large bowl, mix together goat cheese, basil, chopped garlic, rough chopped sun-dried tomatoes, and salt and pepper.  Put in refrigerator.
Beat eggs and mix with water in a shallow dish.  Mix pork rinds and parmesan cheese in a separate shallow dish. Set both aside.
Drain the jar of sun-dried tomatoes, and process in food processor until smooth and spreadable.
Spread equal parts of sun-dried tomato puree across the narrow ends of chicken to about half.  Top with cheese mixture.  (Depending on the size of your cutlets you may have a little of each left over.  If you spoon it onto the chicken without touching the meat, you can have the leftovers on crackers—BONUS!)
Roll each up, jelly roll style, and secure with a toothpick.
Dip stuffed breast into egg mixture and then roll in pork rind mixture.  Place in baking dish seam-side down.  Sprinkle any remaining pork rind mixture across the top and press lightly into the chicken rolls.
In a small bowl, mix melted butter, garlic powder, and Italian seasoning.  Drizzle over chicken rolls.  Bake for 30 minutes.