I have been getting healthy (or healthier) over the last couple of months. I love the results I am seeing and am committed to this process – really.  One problem that I've encountered is that there are certain ethnic foods that I really love, but that do not provide healthy options, specifically Chinese food.  I decided to take one of my favorite foods at the Chinese restaurant and create a dish reminiscently full of flavor, but that eliminates (or significantly reduces) any of the "bad" ingredients.   Egg Roll in a Bowl is the result of this endeavor.  I hope you enjoy!
Egg Roll in a Bowl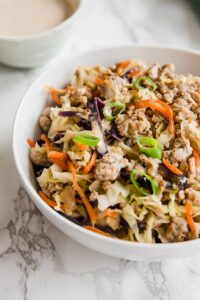 Ingredients:
¾ lb.  pork, finely chopped
1 medium onion, minced
1 Tbsp. sesame oil
1 Tbsp. ginger root powder
½ tsp. black pepper
1 tsp. garlic, minced
½ tsp. salt
¼ tsp. crushed red pepper
2 Tbsp. Splenda (baking type) – or 2 Packets Splenda (regular)
2 Tbsp. white wine
¼ c. beef broth
5 c. shredded cabbage
¾ c. shredded carrot
Liquid aminos, to taste – I use Braggs brand (about 2 tsp.)
Prepared vegetable rice, brown rice, or white rice
Green onion for garnish
Brown the pork in a pan, drain the meat, and then set aside.
In a pan, over medium-high heat, sauté onions in the sesame oil until lightly browned.
Reduce the heat to medium and add the spices, Splenda, wine, and broth.
Add cabbage, and stir to coat.
Cook until cabbage slightly wilts.
Add carrots, and cook 2 to 3 minutes.
Add liquid aminos.
Serve over rice of choice, and garnish with green onion.