WITH NEW MUSIC VIDEO DEBUTING ON CMT, RIAA 5X PLATINUM CERTIFICATION,
AN NBC SPECIAL APPEARANCE AND MORE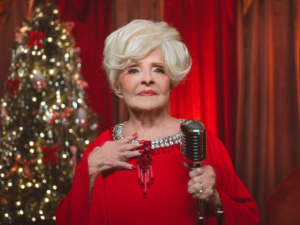 Rock and Roll Hall and Country Music Hall of Famer Brenda Lee is celebrating her signature song, "Rockin' Around The Christmas Tree," on the 65th Anniversary of the holiday classic. Written by Johnny Marks, who wrote many of the holiday standards, the song was released when Lee was just 13 years old. Last year, "Rockin' Around the Christmas Tree" was the second highest streamed Christmas song with 240M streams. It was recently certified 5x Platinum by the RIAA. Now, for the first time ever, Lee has created an official music video for the song, which is out today. The video made its broadcast premiere on CMT, CMT.com, CMT Music and Paramount Times Square Billboards.
WATCH MUSIC VIDEO FOR "ROCKIN' AROUND THE CHRISTMAS TREE" | HERE
Featuring cameos by country stars Tanya Tucker and Trisha Yearwood, the video shows Lee getting ready for her favorite holiday by trimming the tree, baking cookies and there is even a special visit by Santa.
"For those out there who know me and have supported me and my music through the years, I've very proud to be putting out the first ever music video for 'Rockin'.' This song has been so special to me – I never thought it would be my signature song, but I love that it is because it brings so much joy," said Lee. "I remember the day I recorded this wonderful Johnny Marks song, and here we are 65 years later and I'm only here because of you. I won't ever meet all of you, but I know you are there and have been since I was a little girl – so Thank You and I wish everyone a Merry Christmas!"
A new EP, A Rockin' Christmas with Brenda Lee is also out today featuring Lee's hit "Rockin' Around The Christmas Tree" and other holiday favorites including "Santa Claus Is Coming To Town," "Jingle Bell Rock" "A Marshmallow World" and "Rockin' Around The Christmas Tree," reimagined by Filous. Listen | HERE
Lee will perform "Rockin' Around The Christmas Tree" on the upcoming NBC television special "Christmas at the Opry" which airs Thursday, Dec. 7 at 8 p.m. ET/PT and streams next day on Peacock.
About Brenda Lee
Brenda Lee signed with the legendary Decca Records label before her 12th birthday and went on to record such landmark hits as "Sweet Nothin's," "All Alone Am I," "Break it to Me Gently" and "I'm Sorry." Though she had success in multiple genres including rockabilly, pop and rock, Lee found her home in country music. Lee's best-loved hit, "Rockin' Around the Christmas Tree," is celebrating its 65th anniversary and continues to top the charts year after year. Not only has Lee sold more than 100 million albums globally, throughout her career she shared stages and earned the respect of the world's most revered performers. The Beatles opened for her and the lads from Liverpool became good friends with the Southern belle from Atlanta, and Elvis Presley and Lee made their Grand Ole Opry debut on the same night. Lee had nine consecutive top 10 Billboard Hot 100 hits from 1960 to 1962 and set a record for a female solo artist that was unequaled until over two decades later. Lee churned out country hits such as "Sunday Sunrise" and "Big Four Poster Bed" and continued to have country hits into the 80s, including "I Love Her So," a duet with George Jones. Lee was the first woman inducted into both the Rock and Roll and Country Music Hall of Fames and she is a recipient of the Grammy Lifetime Achievement award.