Grammy-Award Winner, World-Class Exhibit and Unique Carousel at Ark
The world's largest Christian music festival enters its second week at the Ark Encounter in Williamstown, Ky., and welcomes legendary Grammy-award winner Ricky Skaggs on August 12, making his debut performance at the Ark this Friday.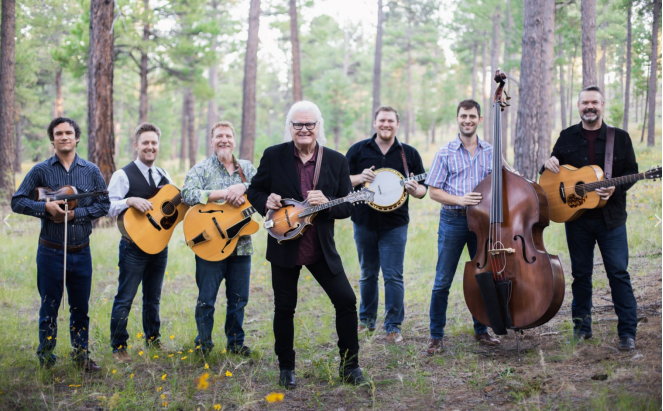 Skagg's appearance is a part of the world's largest Christian music festival, 40 Days and Nights of Gospel Music,* held at the attraction August 2 – September 10, 2022, south of Cincinnati. The annual event features over 150 concerts along with inspirational messages from several sought-after speakers, including Ken Ham, founder of Answers in Genesis, owners and operators of the Ark Encounter.
Skaggs, with 15 Grammys to his credit, is excited to appear with his group Kentucky Thunder at the festival: "I remember many years ago when we all heard the news that the Ark was coming to Williamstown, I was so excited and said to my family 'we're going up to see the Ark.' But the business of traveling the roads, doing lots of concerts every year, it just got behind me, so I filed it away but kept it on my bucket list," said Skaggs. "On August 12, not only am I going to see the Ark, but I'm also gonna be performing at the Ark. Wow, thanks God!" Watch Skaggs talk about his Friday concert at the Ark at https://youtu.be/VhZC-ELkmzg.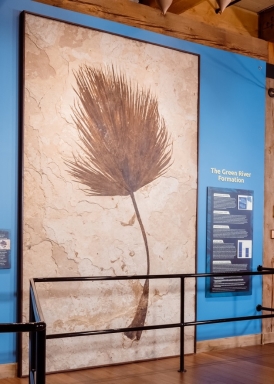 Meanwhile, the Ark Encounter continues to make major additions. On the third deck of the massive ship, a large exhibit highlighting a giant plant fossil is now on display. This unique 10'7" palm frond fossil was discovered in the well-known Green River Formation of Wyoming.
Dr. Andrew Snelling, head of the research department at AiG, declared: "It is a phenomenal, world-class fossil. It is not millions of years old. The palm frond was buried catastrophically as a result of the global flood of Noah's day about 4,500 years ago." A family in Wisconsin made the fossil's donation possible.
Also, a large animal-themed carousel, built in Italy, will open next week. The carousel features original artwork and signage about the Genesis flood and the animal "kinds" taken on the ark. It's another addition to the large playground for families. A large Children's Zoo enclosure at the Ararat Ridge Zoo behind the Ark is also being completed, to open in the fall.
Through September 10, 40 Days & 40 Nights of Gospel Music will feature multiple concerts Monday through Saturday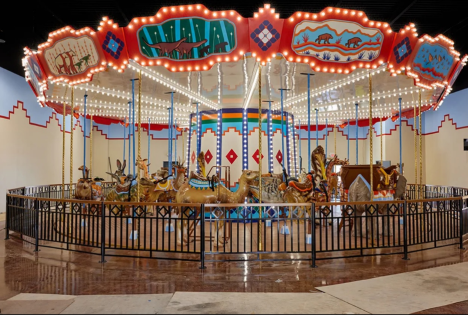 and a worship concert on Sunday afternoons, along with well-known speakers and opportunities to experience the popular Ark Encounter and the high-tech Creation Museum 45 minutes away.
The expanded musical roster will feature over 150 artists, performing country, bluegrass, southern gospel, inspirational, worship and other musical styles over 40 days and nights at the attraction's huge 2,500-seat Answers Center. Also new this year, musical performances will be held at the Ark's sister attraction, the Creation Museum in Petersburg, on Wednesday mornings. In addition, outdoor concerts will be held at Noah's Village at the Ark Encounter, Monday–Saturday at 11:30 a.m., 12:15 p.m., 1:00 p.m. and 1:45 p.m., plus the main event concert at 4 p.m. in the Answers Center. On Sundays at the Ark Encounter at 4 p.m., the Ark's resident artists TrueSong will lead a special worship time and speakers from Answers in Genesis will give live talks.
Attending concert performances is free with regular Ark Encounter or Creation Museum admission for that day. Even with high gasoline prices, inflation, and a drop in the number of international visitors, the Ark is welcoming huge crowds this summer. On a recent Saturday, 8,000 guests visited.
Ham declares: "Millions of people across America love these styles of music we're presenting. Abraham Productions and the Ark Encounter are offering a unique combination of award-winning groups, all coming to the world's leading Christian themed attraction. The Ark is also the number one attraction in Kentucky as determined by Attractions Magazine."
Abraham Productions is the event's organizer and promoter, well known for producing large gospel music events such as "Singing In The Sun," a 6-day event with 30 major artists and national speakers, taking up the entire 250,000 square foot Myrtle Beach Convention Center in South Carolina.
"We believe '40 Days & Nights' will be our largest-attended music event to date," said Ray Flynn, president of Abraham Productions. "We expect many guests will come for more than one day, so the final attendance might end up being even higher than last year's event."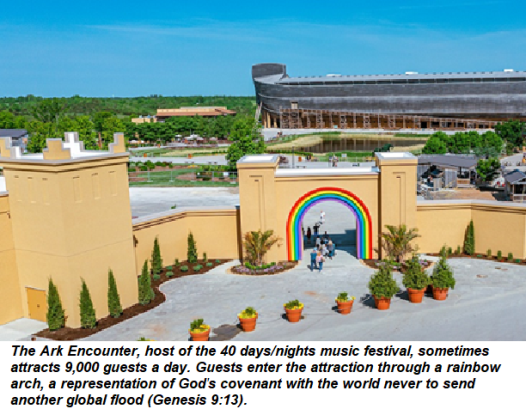 Daily admission to the Ark Encounter gives free access to all the concerts and speakers and allows guests to explore the Ark, which at 510 feet long is the largest timber-frame structure in the world. Built according to the dimensions given in the Bible, the Ark features three decks of striking teaching exhibits. Other attractions include the live animal Ararat Ridge Zoo and a Virtual Reality Experience.
Admission prices, Bouncer pass options to visit multiple times, hotel options and additional details are available at  www.40DaysOfGospelMusic.com. Tickets  and Bouncer passes can  be  purchased  through www.arkencounter.com or by calling the Ark Encounter at 800-721-2298.
Answers in Genesis is a ministry based in northern Kentucky, near Cincinnati. Its Ark Encounter opened in 2016. The Creation Museum (west of the Cincinnati Airport and next to the AiG headquarters) has also become a major family attraction in the Midwest. For more information on the two attractions, visit http://www.creationmuseum.org and http://www.arkencounter.com.
*"40 days and 40 nights" is the well-known phrase from Genesis 7:4 of the number of days it rained during Noah's Flood.