Like most of us, Colton Dixon had no idea how much his life would be affected this season. But when his managers canceled his shows as a result of COVID-19, the singer-songwriter started to feel the distress of uncertainty. His income took a hit, leaving him with one option: trust God. "It's easy to find security in your job or source of income," he explains. "But this season feels like a desert right now," he adds, explaining that touring is a major source of a musician's income. "So, I'm just learning that God is our source, not what we do or how we do it. He's still a supplier of our needs," he declares, admitting he struggles with trust. "I've had great days, and I've had days where I'm like, 'God, what are you doing?' But He's always faithful, and His Word never returns void."
Colton's newly released EP (or mini album) is a creative expression of his own journey of faith in desert seasons. "It's been three years in the making, but we finally just put out some new music that I'm so proud of," he shares. "Out of my season of doubt and the unknown and questions, I was able to write these songs, which came out during this quarantine season where most people are dealing with thoughts, questions, and the unknown. We're all kind of saying to ourselves, 'We don't know what's going to happen.' But it's okay to not know; that's where faith comes in." That's a truth Colton knows firsthand.
We Must Remember God Always Has a Plan
"At like seven or eight years old, I gave my life to the Lord. It wasn't until I was thirteen, though, that I actually felt a calling on my life, and that was to do music," Colton explains. But even in that moment of certainty, he had to trust God. During a piano recital, his music teacher decided that he should sing the song that he was supposed to play on the piano. "I was a nervous wreck—scared to death." Yet, with sweaty palms and a rapid heartbeat, he walked up to a single microphone, swallowed hard, and sang "I Can Only Imagine" by Mercy Me. "I knew [at that moment] that's what I was going to do with my life, but I didn't know what it would look like." He started pursuing opportunities, but once again, he came face to face with the t-word: trust. That was exactly what he did—for years—until American Idol tryouts came to his town.
"My sister really wanted to audition," Colton emphasizes. So, his entire family went to show her their support. "I didn't really know if I was going to sing or not," he recalls. But he did. He made it to the Top 40. It was exciting and exhilarating and seemed like God's perfect plan until he got cut from the show. "I thought, 'Alright, that was fun. Time to move on to other things and see where this takes me.'" His sister wanted to audition again. Colton did not. But he agreed to support his sister. Then, things took a crazy turn, and before he knew it, Colton was auditioning for American Idol once again. Not only did he make the show but ended up in the show's Top 10. "I made the live show and got to do the tour and all that fun stuff. That was the year that the doors opened," he remembers.  It was a very tangible reminder that God always has a plan.
"I signed a deal with a Christian record label. We made three records, and it was amazing. And then something crazy happened, which no artist ever expects," he divulges. The American Idol deal came to a close, and he was dropped from the label. Shocked, stunned, and at a loss for words, Colton was once again forced to trust God in an unexpected desert season.
Uncertainty Is a Breeding Ground for God's Next Move
"So, the label was like, 'Things are going well, but it's in our best interest to do something else,'" Colton continues. However, his wife, Annie, reminded him that uncertainty is often a breeding ground for God's next move. She told him, "I know this seems like a setback, but what if this is actually God's way of setting you up for what's next?" So, they clung to their faith, hoping, waiting, and praying to God for clarity.
"Faith is the one thing that pleases God," Colton stresses. "So, when we come with faith, God can't help but bring the miracle. It's almost like He's waiting on us to come to Him with faith. Then, He's like, 'Alright, that's the right attitude,' and boom. But it's not always immediate either." Month after month went by as Colton waited for God to reveal what was next for him. Nothing happened. "It was like crickets," Colton recounts. "We had already written ten songs or so for a new project and didn't know what was going to happen." But, once again, God proved himself to be faithful.
"A new record label came to the table, which exceeded all of our expectations" says Colton, referring to Atlantic, a label so mainstream that it forced him to step out of his comfort zone. However, "I knew it was right and had peace about it," he affirms, explaining that it's up to us to trust God when we're waiting, expecting, and afraid.
Trust Makes our Faith Greater Than Our Fear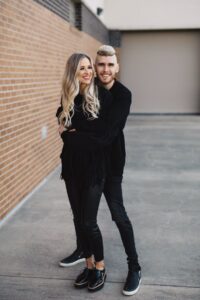 "Fear creeps in, and it has a bunch of different shapes, sizes, and forms. But ultimately, we all know where it comes from: the enemy," Colton asserts, pointing out, "But God, on the flip side, comes to give us life more abundantly. So, when fear tries to creep in, [we] need to push that down and choose faith over fear, and we need to trust." This is especially true for us as we live through a worldwide pandemic, conflict, looting, and racial tension. We're surrounded by panic, fear, and anxiety, but trusting God makes our faith greater than our fears. "We formed this new normal, but there's the fear of Will the way we do whatever be the same? Will the way that we church ever be the same? Or, you know, touring, will that ever look the same? But it's in those moments that we have an opportunity to choose faith over fear. So, no matter what season that you're in, choose [true] faith over fear-based faith," he encourages.
For Colton, trusting God has helped his music reach people who don't typically listen to Christian music or go to church.  "Those people still need hope and love. Even if they want nothing to do with God, God created them, and God is love. So, when you love people like that, and they accept it, they don't even realize that they're accepting a form of God." Despite everything that's happening in the world today, spreading God's love, developing our faith, and modeling Christ-likeness really is all that matters.
All that Matters
"God wants the best for His kids. He'll open doors that no man can shut," Colton testifies. "We take a lot of God's handiwork for granted and categorize [it] as coincidence. But no. That's not it. God is at work for us every single day behind the scenes." But we've got to trust Him, especially in the desert seasons. In 1 Kings 17:2-16, God sent ravens to feed Elijah. He supplied his needs. He'll do the same for us even in times of great anxiety, worry, fear, and cultural tension. He will make a way in the desert, create a path in mighty waters, open up ways in the wilderness, and provide streams in the wasteland, as it says in Isaiah 43:16-19. But will we trust Him?
Colton's EP is about having hope in the midst of the unknown. As we cling to our faith in desert seasons, we must remember to focus on all that matters, which is the title of one of Colton's songs. The lyrics read:
What would I live for
If I don't have You in my life?
What would I gain
If You take the Holy Ghost?
What would become of me
If I didn't see Your light?
What would have been said of me
If You didn't hold my hands?
Now I've come to realize
That You are all I have
You're all that matters.
Perhaps this is the message God's trying to send us as we sit back wondering when things will return to normal. Maybe desert seasons are God's way of reminding us that He—not our titles, possessions, accomplishments, or dreams—is all that matters.