One Simple Recipe for Family Devotions
By Jason Helopoulos
No practice in your home will prove more beneficial to your family than daily family worship.
Just as two bankers living together doesn't make a bank, so two or more Christians living together doesn't make a Christian home. The exchanges that happen in a bank, or in a home, define a place.
Christians worship; that is what we do. Worship defines our churches and our personal lives, and it should mark our homes. In fact, family worship has a long history in the church. Along with corporate and private worship, it has been considered one of the regular routines of the Christian life. And the benefits are eternal.
The Central Mark of the Christian Home
Of course, all kinds of activities occur in our homes. My family loves to play games, cook together, and watch funny videos. Though I love doing each of these activities with my wife and children, I hope none of these events occupies the center of our home and life together.
As a Christian, I want and even need Christ to be the center. It is one of the marks, if not the central mark, of the Christian family that it makes Christ the center of its daily life. And daily family worship centers the Christian home upon Christ.
One of the greatest benefits of family worship is the opportunity to pass on the faith to our children. This privilege is laid out in every direction before the Christian parent.
Helping Our Children to Hope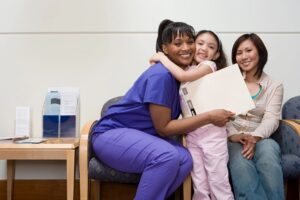 I often think of Psalm 78 when I think of the need to pass on the truth of God to our children. Asaph says he will tell the "things that we have heard and known, that our fathers have told us. We will not hide them from their children, but tell to the coming generation the glorious deeds of the Lord, and his might, and the wonders that he has done" (Psalm 78:3–4). Why? "So that they should set their hope in God and not forget the works of God, but keep his commandments" (Psalm 78:7).
Isn't this the deepest desire of every Christian parent? We long to see our children set their hope in God and live according to his word.
Family worship provides our children (and ourselves) with a daily encounter with this God of grace and truth. By practicing family worship, we bring our children before Christ and we keep putting them in the way of his blessing. Much like the parents in Mark 10:13 who brought their children to Christ that he might bless them, so we place our children before him daily.
Gardeners of Faith
Of course, this does not mean that we can cause their salvation or make Christ bless them—salvation is only by God's grace through faith (Ephesians 2:8–10)—but as Christian parents, we are privileged and responsible to provide an environment conducive to their growth in Christ.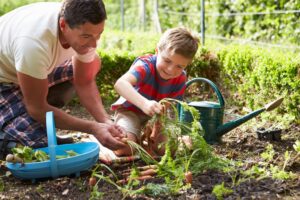 It is much like gardening. The gardener has no control over whether the seed grows into a plant. God must cause the growth. But the gardener tends the soil, waters, weeds, and ensures that the plant receives the right amount of sunlight (1 Corinthians 3:5–7). She provides a conducive environment, to the best of her ability. She employs all the tools and knowledge at her disposal. She can't guarantee the growth, cause the growth, or demand the growth, but she nurtures it, tends to it, and hopes for it.
In family worship, the family gathers around the word and prays together. We provide a conducive environment as we encounter Christ together daily in these means of God's grace. God promises to bless his children through his word and prayer. So, as parents, the way we bless our children is not to invent new ways for our kids to get to God; we simply put them in the way of God's word and prayer. But without some regularity and structure and purpose, I think we may assume that we're doing this more than we actually are.
Call It a Delight
Family worship isn't hard. It's not rocket science. Take ten minutes a night. After dinner, clear the table, move to the family room, open the Bible, read a short section, and pray.
That's it.
It doesn't need to last too long—probably, if you're just beginning, it shouldn't. As your family grows in this simple practice, you may begin to ask questions, discuss the passage that you read, and sing psalms or hymns together. Regardless of what you add to simple Bible reading and prayer, refrain from making it too arduous.
It doesn't have to be intimidating; it doesn't have to be hard. In fact, it shouldn't be. As with every time we enjoy God's presence, our goal is not to add religious burdens but rather to enjoy God as a delight (Isaiah 58:13). Imagine what it would mean for your children to call family worship a delight! Of course, this might not always be the case (for your children or for you), but as parents, we should do what we can to remove obstacles from the easy enjoyment of Christ (Matthew 11:30; 23:4).
If you miss a night, or three nights, or a week, just start right back up again. It isn't a wheel that needs to be cranked up afresh or a huge project requiring a new relaunch. It is a means of grace God provides to his children. It isn't meant to be a burden.
In family worship, we simply put ourselves and our children in the way of Christ's blessing. Try it. I promise it isn't hard. Over time, practicing daily family worship will change your home. It will change your life. By coming daily to Jesus, not just in our private devotions but together as families, Christ pours out blessings that will overflow into eternity.
Jason Helopoulos (@Helopoulos) serves as the Associate Pastor at University Reformed Church (PCA) in East Lansing, Michigan. He is the author of three books, including Let the Children Worship. Jason resides in mid-Michigan with his wife, Leah, and their two children.