Sidewalk Prophets announces a nationwide search for a new keys player to join their band. Anyone interested can submit applications until June 18th HERE, with the application process taking place in three phases.
"We're excited about this audition process!" shares Sidewalk Prophets front man, Dave Frey. "We can't wait to meet the many talented creatives out there that are passionate about using their gifts to share the hope of Christ."
The process to apply will take place in three phases – an online application, a video submission showcasing one's talents, and finally, an in-person audition. Anyone interested can submit an application beginning today through June 18th HERE.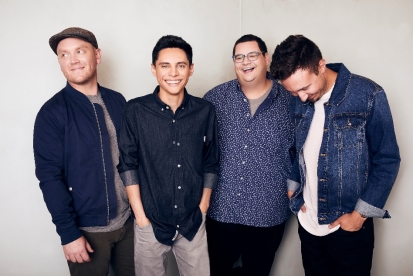 In April, the band also announced their "Great Big Family Reunion" tour, their first in-person tour in over a year, beginning this month. After a successful and innovative year of livestream concerts, with over 35K virtual audience members, due to the COVID-19 pandemic putting restrictions on in-person shows, the "Great Big Family Reunion" tour will encompass the songs and storytelling of the livestream concerts but will take place live and in-person while following all local and CDC COVID-19 safety guidelines. The tour will run through August 2021.
For more information about the "Great Big Family Reunion" tour or the band, go to www.sidewalkprophets.com
About Sidewalk Prophets
With a career spanning three major label studio releases—These Simple Truths (2009), Live Like That (2012) and Something Different (2015), plus 2013's celebrated holiday offering, Merry Christmas To You—and multiple hits, including Gold-certified "The Words I Would Say," "You Love Me Anyway" and "Live Like That," among others, Sidewalk Prophets remains a mainstay at Christian radio. The Dove Award-winning band has more than 228 million career on-demand streams, sold more than 913,000 in equivalent album sales, and 1.88 million digital tracks. In addition, the group has garnered five No. 1 songs, nine Top 5 radio singles and more than 52.3 million views on YouTube. The band originally formed at Indiana's Anderson University, and since signing with Curb | Word Entertainment, they've been nominated for a Billboard Music Award, multiple K-LOVE Fan Awards and four Dove Awards, taking home the New Artist of the Year Dove in 2010. Over the course of their career, they've played for more than 2.5 million fans, and counting. Known for spending more days on the road than anywhere else, Sidewalk Prophets' most recent tours have morphed into interactive experiences for their fans, whom they affectionately call "The Great Big Family." The band hosted the first free public concert in Ryman history on Mar. 22, 2020, previewing new music from their highly-anticipated album, The Things That Got Us Here, available now.